6 Reasons to Take Avalanche Level 1 Safety Course
Backcountry skiing and splitboarding are undoubtedly fun activities, but they're also incredibly dangerous. Why? Because the best skiing occurs on steep slopes stacked with deep, fresh snow—two classic ingredients for avalanches. The biggest avalanches can wipe out entire towns, but even small avalanches can bury, injure, and kill unsuspecting backcountry travelers. That said, with the proper education and training, you can learn how to avoid avalanches, make intelligent decisions in avalanche terrain, and rescue victims as efficiently as possible in the event of a burial. And for most backcountry travelers, the best way to start this avalanche safety journey is with an Avalanche Level 1 Training Course—also known as "Avy 1." 
If you're debating the merits of an avalanche safety course or want to learn more about the Avy 1 curriculum, you're in the right place. In this article, Todd Passey, IFMGA guide, avalanche safety course instructor, and founder of In the Company of Guides, breaks down six reasons to take an Avalanche Level 1 Training Course. Last but not least, Passey outlines two supplemental course options:
Supplemental course options
Without further ado, let's get into it!
6 Reasons to Take an Avalanche Safety Training – Level 1
1. Learn and Mitigate the Risks
You can't find a solution if you don't know the problem. The first reason to take an avalanche course is simple: recognize the risks. "Anybody that wants to go into the backcountry should take an Avy 1, because that's the only way they're going to understand the risks involved and how to deal with those risks," says Passey. Weather, snowpack, terrain, and even human dynamics– "all of these factors go into your risk assessment," explains Passey.
2. Learn How to Use Your Avalanche Safety Gear
If you're interested in backcountry skiing or splitboarding in 2022, you're probably familiar with the essential safety gear: beacon, shovel, and probe. However, this gear only saves lives if you know how to use it.
"It's pretty required to carry an avalanche beacon, shovel, and probe when you go into the backcountry, and it's not enough to just carry it; you need to know how to use it, too," says Passey simply. "Uness someone has practiced and knows how to use their beacon, they're not a good partner."
Studies show that chances of surviving a full burial plummet as the clock ticks on. In Avy 1, you'll learn everything from initial beacon search and fine search to probing and shoveling techniques—all of which are critical in worst-case scenarios.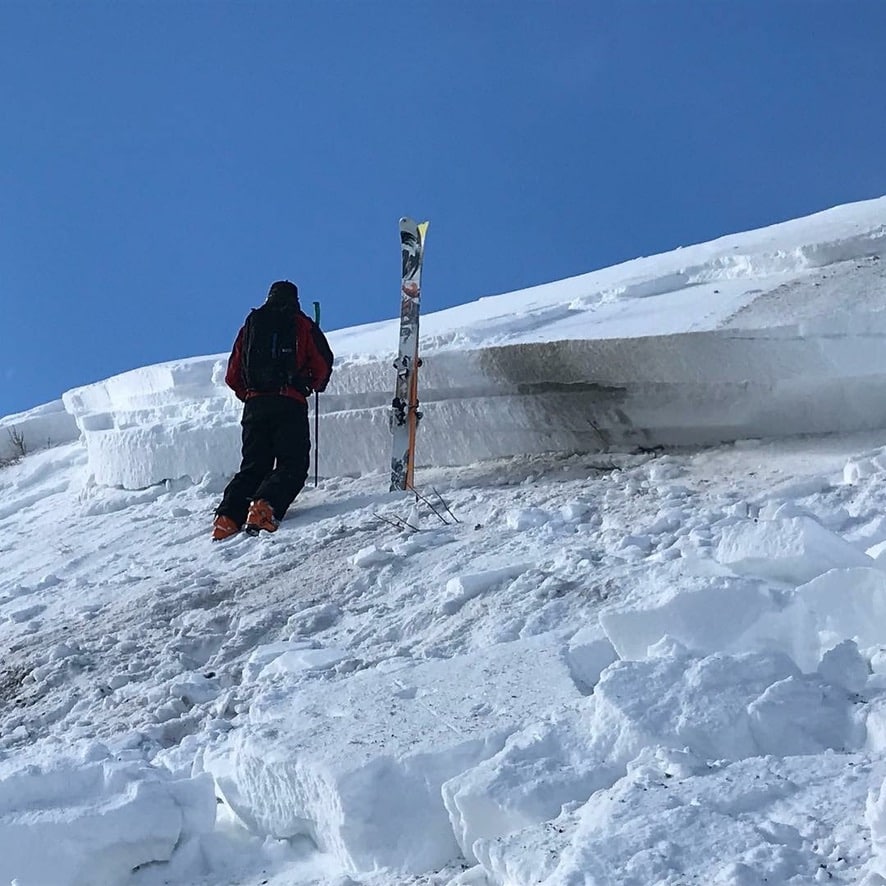 3. Balance of Theory and Field Experience
In the wake of COVID-19, In the Company of Guides teaches hybrid avalanche courses, which blend online classwork and two practical field days.
"The whole classroom session is done online and on your own," says Passey. In the Company of Guides partnered with the American Avalanche Institute to use their online course, which includes access to top-of-the-line exams, videos, worksheets, and study guides. While you'll tackle the bulk of the coursework solo, Passey or other instructors remain on-hand for Zoom calls to answer questions before the two field days.
As far as the field days go, "day one is more techniques, day two is putting those techniques to work," outlines Passey. "Typically, day one is working on a rescue, we'll dig a pit, and look at snow. Day 2 is more focused on moving through the terrain, touring, and field assessment–learning how to recognize signs that you'll see on a day-to-day basis, how to plan your tour with the terrain, and how to use the terrain for safety."
A benefit of this course structure? If you work 9-to-5, Monday through Friday, you don't have to take Friday off as you would in a traditional three-day course. Instead, you can prep on your own schedule ahead of the field days, then save that PTO for a proper powder day or backcountry trip!
4. Learn How to Plan and Execute a Tour
After the online coursework and two days in the field, you won't be an avalanche safety expert—not even close. However, you will have the skills and knowledge needed to read the avalanche forecast, plan a conservative tour, and execute it safely. In the event of a burial, you'll be more prepared to implement an efficient rescue. You may want to check out our Backcountry Skiing Checklist Recommendations.
5. Find Touring Partners—and Develop Skills with Existing Touring Partners
In the Company of Guides' avalanche courses are purposefully small—often four to six students. An offshoot of smaller course sizes is ample face time with instructors and fellow students. If you're coming into a course by yourself, you have a decent chance of meeting touring partners of a similar skill level. Additionally, Passey mentions that many students book in groups, enabling them to develop their touring skills with those they already spend time with on the skintrack.
6. Touring Tips
Learning to tour efficiently isn't the main point of an Avy 1 course. That said, Passey likes to pepper touring tips throughout his classes, like how to make smooth kick turns or set an energy-efficient skintrack. These skills can be critical, as you may have to transition or skin quickly to reach an avalanche burial victim.
Two Other Backcounty Skiing Courses to Consider

:
Backcountry Essentials Starting from Scratch
If you don't know how to use your touring skis or splitboard, an Avy 1 course is premature. "You're going to get a lot more out of the course if you already know how to use your gear a little bit, and already know how to ski at an intermediate level," says Passey.
"Sometimes, people are completely overwhelmed by their gear," he explains, acknowledging a common pitfall. Confident skiers and riders can avoid avalanche terrain and give gear a few test runs by touring uphill at their local resort. Less confident backcountry travelers can take In the Company of Guides' Backcountry Essentials course as a pre-Avy 1 prep course. Unlike an Avy 1 course, Backcountry Essentials classes focus on learning how to use gear without diving into avalanche safety.
Backcountry Ski Mentorship: Taking it Further
An Avy 1 course is the start of your avalanche education journey, not the end. If you're aiming to step into steeper terrain, you must continue riding with guides and more experienced mentors, as well as actively continuing your avalanche education. Passey recommends that interested parties sign up for his Backcountry Ski Mentorship course, which enables Avy 1 graduates to tackle bigger objectives in the Wasatch and further develop their skillsets. Session dates are below. Please reach out to In the Company of Guides for more info:
Session 1: Dec. 14th, 21st, 28th, and January 4th
Session 2: Jan. 11th, 18th, 25th, and February 1st
Session 3: Feb. 8th, 15th, 22nd, and March 1st
Session 4: Four consecutive days, March 7th-10th
A Lifelong Pursuit
Regardless of which course you take—or what guiding operation you take it with—you're taking a step in the right direction by pursuing formal avalanche safety training. And no matter your skill level or knowledge base, remember that avalanche safety is a lifelong pursuit. Thank you for reading, contact us here with any questions, and we hope to share a skintrack with you soon.
Related backcountry skiing articles